Gold Coast's No.1 Residential, Commercial & Industrial Painting Services
With 50 Years of Getting the Job Done Right, On-Time and On-Budget!
CLICK TO CALL FOR YOUR NO-OBLIGATION FREE QUOTE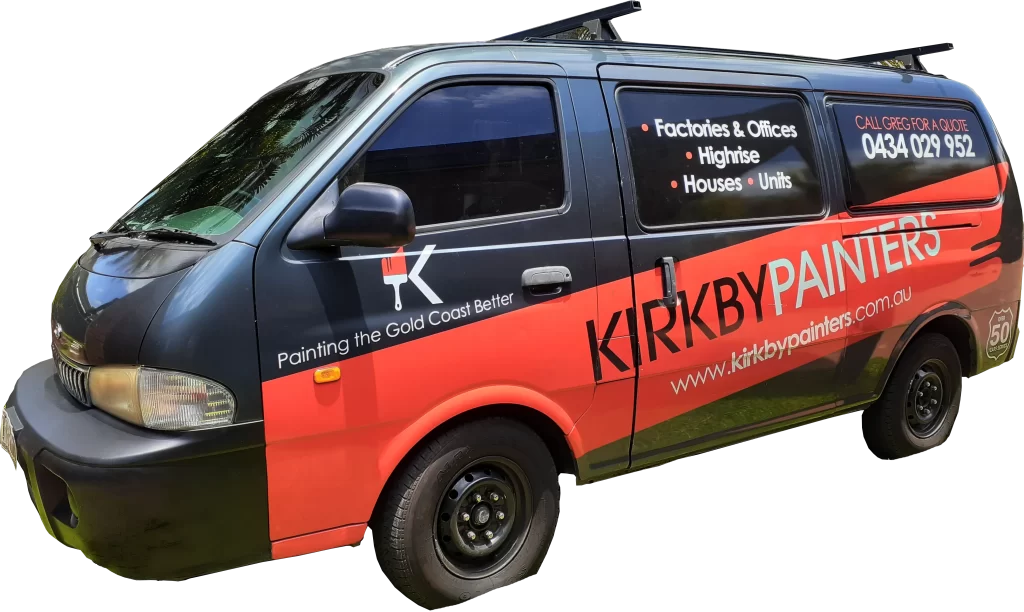 As your Professional Gold Coast Specialist Painters and Dulux Colour Consultants, we pride ourselves on EXCEEDING Customer Expectations.
ABOUT KIRKBY PAINTERS GOLD COAST
Looking for Professional Painters on the Gold Coast?
We are your Gold Coast Specialist Painters with 50 years experience. We pride ourselves on outstanding customer service and superior workmanship. consistently providing exceptional quality and dependable service to our discerning clients. Customer satisfaction is our ultimate goal and we take great pride working in partnership with our clients to help them realise their vision for their home. We are committed to hiring licensed, qualified personnel with the knowledge and experience to provide exceptional service and maintain our high standards.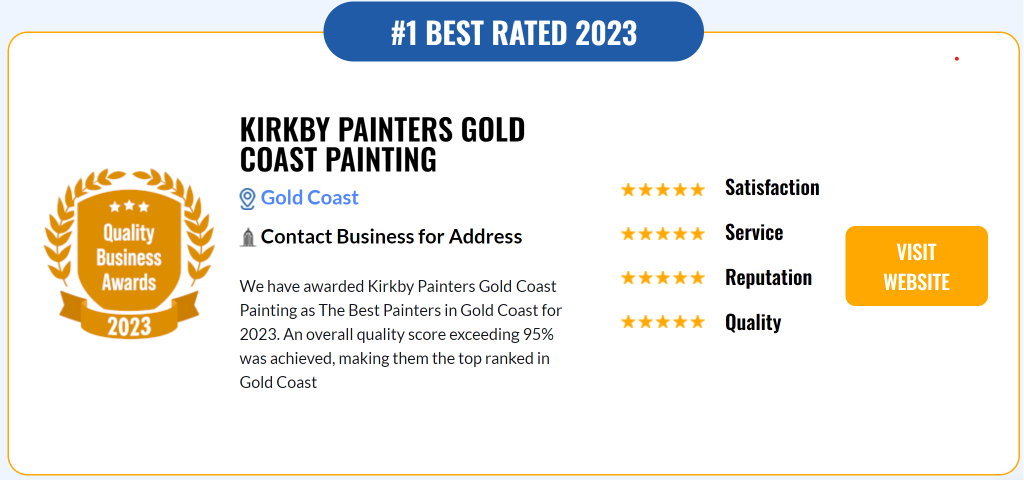 OUR LOCAL PAINTING EXPERTS
Why we are Gold Coast's No.1 Painting Company?
Whether you are looking for your local House Repaint Specialists or Commercial Painting Experts we have you covered? We have forged an outstanding reputation with our customers because of our expertise in Interior and Exterior House Painting Services, as well as Industrial and Commercial Painting Projects in the the Gold Coast Region.
Our Recent Gold Coast House, Industrial & Commercial Painting Projects
We use 50 Years of Experience to deliver OUTSTANDING RESULTS on each Residential, Commercial and Industrial Painting Project. Kirkby Painters is your Local Gold Coast Painting Company that 'Under-Promises' and 'Over-Delivers' every time and on every project.
Seeking Professional Painting Services on the Gold Coast?
We offer a wide range of Professional Painting Services and Solutions on the Gold Coast, Queensland. Our Services include:
• Residential Home Painting • Commercial Painting • Industrial Painting • Roof Painting or Re-painting • Services • Interior Painting • Exterior Painting • Body Corporate Painting • Investment Property Painting • Townhouse Painting
Russell Spencer
2022-08-25
Greg and his team are very professional and take pride in their work. Our job was completed on time and within budget. Very happy with the whole process and the quality of their work. Highly recommend.
Catherine Carew
2022-06-01
Top quality client-driven painter. Honest, professional, big enough to meet my needs with adequate personnel to deliver results and finish in a timely fashion. Greg and the team completed full interior paint job. Im so happy with the result will have Greg and the team back again to do my roof!
Kirby Painters recently painted the inside and outside of my rental property so as to get it ready for sale. It was the best thing I ever did. Greg lived up to everything he told me he would do.He gave me a very fair price. Started and finished the job on time. High quality workmanship and best of all, the free color consultancy from Dulux. The colors that were chosen were perfect and made everything else in the home including the tiles, bathrooms and kitchen look like new. I was amazed and so were the selling agents. House sold for a much better price than expected and went under contract within a few days. I could not have done it without Greg's help and advice. The paint job he and his boys did made all the difference. I am so glad that I chose him. Greg's knowledge of painting really did help me obtain a fantastic result.
Greg had painted 3 other houses in our estate and each gave him a positive reference. Having also sought quotes from two other painters who never responded even thought they had called round to inspect the job Greg had the quotes for our roof and external painting of house and boundary walls emailed back with 24 hours. The quote also covered the costs of a colour consultant. Greg and his tradesman turned up on time and have done a great job. One very positive aspect of their work was that it was not just a case of slapping on the paint and running. They did a lot of remedial works as part of the process. We have now engaged him to do the driveway and footpaths around the house to complete the package. Thanks Greg, PK and Cain
Kirkby Painters (Greg and team) have just completed both the exterior and interior of our house as well as driveway and all paths and edges. The price was reasonable but it came with a first class service. Highly recommended.
Olivia Statters
2021-03-01
Greg and his team did a fantastic job of painting the exterior of our house. Everything was done with such detail and perfection and nothing was ever a problem. An absolutely wonderful, reliable and top quality finish we are exceptionally happy with everything. If you want the job done well and right, Greg Kirkby is your painter!
Peter Gardiner
2020-10-06
From the time I made the enquiry to the completed job, Greg was prompt, and professional. During the process you could see the experience gained by Greg and his pricing was great. I would not have any hesitation in recommending Kirkby Painters for your next painting job.
Awesome company to deal with from start to finish, easily the most professional painter I have come across on the Gold Coast. Super honest, always does what he says he will, in the time frame he quotes, I would recommend Kirkby's to ANYONE no matter the job.
Greg and his team done an excellent job. Whole interior of house was made more difficult for the because of too much furniture but they handled that with no problems. An expert job , very professional and all done within one week . Good price also I would have no hesitation in recommending Greg Kirkby Painters . Thanks Greg
Greg and his team were fantastic from start to finish. Regular communication and a top quality job. He painted a two story apartment block for me and the quality of workmanship from start to finish was fantastic.